Prada announces booming sales as they have broken their own records, doubling net profits from 2010.Figures rose from £88.4million in 2009 to £221.2 last year - a 150% increase. "The group has a strong industrial and distribution structure, ready to seize the best opportunities offered by any market," says CEO Patrizio Bertelli. "We have spent the last few years focusing on our brands and the development of our retail network. These results confirm the effectiveness of our strategy."
Notably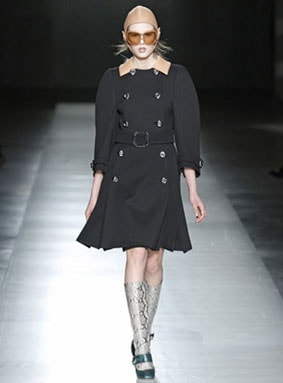 it was the Asian market which considerably upped the sales quota, where Prada's 104 stores saw a 63% sales rise. Whilst revenues, across Europe and the States, increased from 20 to 29.5%. Earnings before interest, taxes, depreciation and amortization (EBITDA), increased by 84.7 per cent to £472.6 million.
According to WWD, the label is looking to launch an IPO on the Hong Kong Stock Exchange, which will make it an all the more exciting proposition for shareholders. The company has attempted an initial public offering three times before, but has previously pulled out due to the weakness of the global markets.
Hong Kong is thought to have been Prada's first choice thanks to the huge potential for luxury growth in the Chinese market.

Analysts are predicting this move is imminent and that the company would then be valued at around £5.92billion.

Image: Prada AW 11